Refurbished Railroad Signal on Saucon Rail Trail
January 2017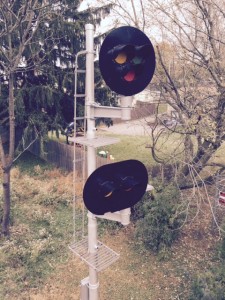 The refurbishing and restoration of the color light railroad signal located along the Saucon Rail Trail in Hellertown Borough is almost complete!
The signal, which was manufactured by the General Railway Signal Company, was installed by the Philadelphia and Reading Railroad between 1910-20. It served as a northbound signal to alert engineers about the main track conditions and the upcoming siding which may have diverted trains to the former Thomas Iron Works site or to the Hellertown Rail Station that was located near Depot Street.
Volunteers from the Saucon Rail Trail Oversight Commission disassembled and removed the individual parts of the signal. Each part was photographed, measured, and analyzed to determine if it could be refurbished or needed to be replaced. This information was shared with experts who provided advice and direction on the fabrication, sanding and repainting of the signal equipment.
After:
This project would not have been possible without the countless hours provided by the volunteers and municipalities, especially:
Upper Saucon Township for providing missing parts from their Public Works scrap yard
Hellertown Public Works for their equipment, tools and work hours
Hellertown Historical Society who provided their barn facilities where all the disassembly, storage and assembly took place
Along with the generous donations from our supporters:
Timothy & Pamela Enot
Mr. & Mrs. Clemmer
Mr. & Mrs. Timothy Butrie
Edward & Elizabeth Gallagher
Bruce & Jan McIntosh
Saucon Valley Bikes, Steve LaBrake
HCM Foundation
Gerald & Joanne Holum
Robert Sterling
Bruce Swan
Additionally, we would like to thank the following business that donated materials or services for the project:
Sherwin-Williams Paint Store, Route 378
Saucon True Value Hardware, Hellertown
Hill Metal Co., Allentown
And thank you to the 4 individuals that took the project from concept to completion:
Steve LaBrake, Peter Jarrett, Mike Jarrett and Roger Jurczak