Reading Drive Meadow Project
A meadow arrives at the Reading Drive trailhead
You may have noticed activity over the past few weeks on a plot of land adjacent to the picnic area at the Reading Drive trailhead. Volunteers from the SRT Oversight Committee, the Saucon Creek Watershed Association, and the Penn State Master Gardener and Watershed Steward programs are working together to bring beauty and wildlife to the site.
The physical work began in late April with the installation of a meadow of native plants and grasses. Unlike many of the non-native plants that are growing along the trail, native plants provide habitat to support birds, insects, and other animals.
We would like to begin the second phase of the project in the coming months. Invasive plant species will be removed from a wooded area near the picnic tables and native plants that are there will be nurtured and monitored. Volunteers are needed for this next phase.
We wish to thank the Lower Saucon Township Council for its approval of the project.
If you would like more information about the project or would like to volunteer to help, please contact us at mb1ajs@gmail.com. Please visit this site for updates about the project.
Here we are during the weekend of the meadow installation:
4/24/2014 Getting Started
4/26/2014 Reading Road Trailhead Meadow
4/27/2014 Reading Road Trailhead Meadow Planting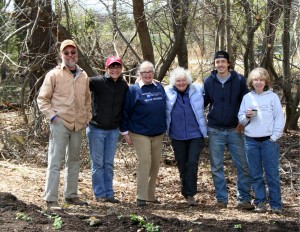 Reading Road Trailhead Meadow Planting April 2014